<a href="https://www.pr.com/press-release/754970">Author Ruby Mohan Debuts with Romantic-Suspense Novel "The Kidnapping" in India</a>
"The Kidnapping" by Ruby Mohan is now available. Most anticipated romantic-suspense fictional novel "The Kidnapping" releases worldwide this summer. The paperback version of the book is retailing in 22 stores in all major cities in India and online at Amazon, Google Play, Flipkart, Infibeam, Kobo, and Notion Press store.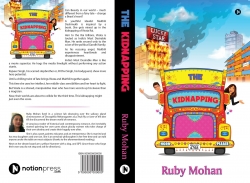 Houston, TX, May 29, 2018 –(PR.com)– Palpable excitement could be felt at the book launch of "The Kidnapping," a romantic-suspense novel by author Ruby Mohan published by Notion Press.
This much-awaited book release is the first by the author for the India market.
A short movie teaser promoting the book was screened for select guests and a book signing event by the author was organized.
Speaking at the event, the author Ruby Mohan shared her passion for books and reading. Quoting from the book, "Add value: it is the only gig that will help you survive," the author highlighted the Unique Selling Points (USP) of the new book's narrative.
Also, as a special incentive, to promote love for reading, book reviewers of "The Kidnapping" were gifted with beautifully designed bookends to display in their personal libraries.
Ruby Mohan is a geneticist by training and author by choice. Her earlier books have garnered a faithful following in the romance, suspense and YA genres.
This is her first paperback release in India.
Book Blurb
US Intelligence knew the house in Abbottabad, Pakistan sheltered a Person of Interest. It was the house with maximum security nobody visited, and nobody left.
But before the world heard of Osama bin Laden, Maithili Deshmukh read "To Kill a Mockingbird" by Harper Lee.
An impressionable sixteen-year-old saw the frantic activity that was happening next door and began to wonder.
Stumbling on the kidnapping of Virata Rai was an accident.
Virata Rai is heir to Rai billions. He is voted second only to the scion of the political Gandhi family as India's Most Desirable Man.
This book features a romance between a billionaire and a working-class girl that captures the media frenzy spanning the globe from India to Hawaii. There is a hijinks kidnapping, mafia and a cutthroat corporate world in the background.
Book Reviews
S.R., a verified purchaser, reviewing the book on Amazon gives it five stars:
"Excellent kindle book. Fun twists and turns throughout. One of the best romances I have read in a while. Am still reading it and can't wait to find out how it ends."
Ember another reviewer writes:
"USP of this book is the way the author introduces a chapter. Its echoes are found as you read. Very well-crafted messages and great delivery."
Availability
The book is available at 22 leading bookstores in major cities. It is retailing online at Amazon India, UK, US and Kindle stores, Flipkart, Infibeam, Kobo, Google Play and Notion Press store.
The book App releases soon.
You can follow Ruby Mohan on
Facebook Page: https://www.facebook.com/ruby.mohan.313
Twitter handle: @rubymohans
Website: www.rubymohan.com
For more information on Ruby Mohan:
Website- www.rubymohan.com
Contact Information
Contact
www.rubymohan.com